It's old news that our grand old game is shrinking.  Just last month, we also learned that its participants are aging.  According to the National Golf Foundation, in 2015 there were more than 1.6 million fewer golfers in the US than just 4 years earlier, with participation down to 8.2% from 9%.  Participation among minorities (non-caucasians) has dipped from 5.4 million to 4.7 million.  Not long ago, we learned that after years of golf's largest player segment comprising of the 45-55 age group, it shifted to those aged 55-65.
The three groups golf constantly struggles to attract are millennials, minorities and women.
These facts are well known but what isn't so well known is why the game is shrinking and how to reverse the trend.   We have some ideas.
Popular opinion (from within the game) suggests that golf is contracting for the following reasons:
It takes too much time
It costs too much
It's too difficult
While 18 holes of golf does take 4+ hours (plus driving time to and from the course and warm-up and "apres golf") there are many opportunities that take less time.  One can opt to play 9-holes (or fewer) or even simply hit a bucket of range balls or practice short game.  Thus, the time spent, in a satisfying experience can be cut in half or less.  Combined with our ability to attend to work matters remotely, through cell phones, the time issue is at least partially mitigated by these factors.
The cost of golf, while significant is not overwhelming.  Though more expensive than such outdoor activities like hiking, cycling and canoeing, it is comparable in cost to sports like skiing and probably less costly than attending many major professional or college sporting events.  Millennials are typically more inclined to spend so the cost shouldn't be a big problem there.
Golf is a difficult game.  However, it might be easier to learn if more of us who play the game took our friends to play or hit balls and helped them out before they have to spend a bunch of money on lessons.  The introductory programs out there haven't been effective and if we just give someone the time, they'll get hooked just like we did.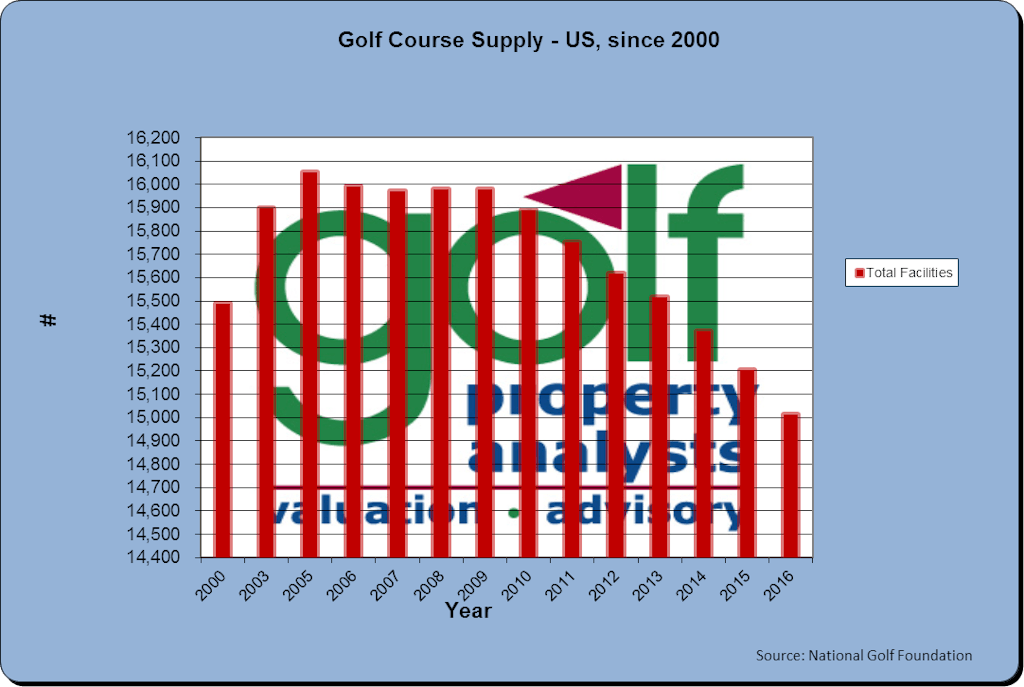 I think the contraction of golf, which includes the disappearance of over 1,000 courses nationwide in the past 10 years, as shown in the adjacent graph is more a function of our culture than anything else.
American culture is ever evolving.  A quick look back at our political history shows that we are a country that ebbs and flows, often in different directions and with different views from different demographic groups.  Golf's problem is one of attracting the groups it hasn't historically embraced.  The golf "culture" is a put off to many.
The most visible part of golf are the professional tours, major championships and the often older and upscale clubs they play.  When I asked my 19-year old son why his friends (most of whom don't come from golfing families) don't play, he said "because of the jackets and ties".
The point is that millennials like to stay connected (cell phone) and don't like rules (dress codes).  When one watches the Masters, US Open or PGA on TV, there are always the ever-present officials in their blazers and ties.  Rules at the clubs most commonly used for major championships can be onerous.
A quick perusal of club websites displays a wide variety of rules that often seem contrary to modern lifestyles, let alone the preponderance of casual dress now considered normal at even the most upscale business, restaurants and other venues.  Should Yankee Stadium have a dress code?  Most clubs prohibit denim jeans.  Many clubs prohibit the wearing of cargo shorts or pants and most require collared shirts on men.  Often, there are rules about the length of one's shorts and requirements that hats always be worn bill forward.  I even know of two clubs that until recently didn't allow shorts of any type and one of them now requires that shorts only be worn with socks no higher than the ankle.
Many clubs also have strict cell phone policies ranging from absolutely no use of a cell phone on the premises (for any purpose) to certain areas of the property where voice communication is permitted.  I know of another club that prohibits the use of any yardage measurement device, including GPS, rangefinders and even GPS watches, and have heard stories of suspensions resulting from the use of such devices.
These rules, and the requirement of a jacket for dinner will discourage a whole generation from ever considering joining a club and maybe playing golf at all.
Millennials, in particular find many of these types of rules to be deal breakers.  They'll find something else to do.  Despite growing up in a golfing family, my intelligent, educated, athletic and fun-loving daughter has no interest because of all the rules at our club.  Golf should be wondering how to embrace her and not worry so much about what she wears or whether she uses her cell phone if those she plays with aren't offended.
Just this week, there's hope that the games governing bodies are waking up to the importance of millennials.  The PGA Tour has been advised by one of its younger players that "walk-up" music might be nice and the European Tour has experimented with same.  I've been to clubs where there was music on the range and where some carts have "boom boxes" which encourage a "party" atmosphere that will bring younger players to the game.  I doubt most "top" clubs would permit that.  I've played with headphones and with guys that have music coming from their pockets thanks to their new iPhone 7's with dual speakers.  It's actually pretty nice, especially for a casual, friendly round, and a little rhythm never hurt anyone's game.
It is the group I call the "3 M's" (Millenials, Minorities and Moms) that golf needs to reach.  It's great that Muirfield and Augusta National now have female members.  It's great to see a little (not nearly enough) diversity at private clubs and more and more junior golf programs. BUT, with college and high school teams finding it more difficult to get course time and many clubs choosing to preserve some of the traditions the "3 M's" find oppressive golf is going to continue shrinking.
We need to ask our kids why their friends don't play golf.  We need to ask our friends why they resigned from the club and left the game.  The answers will be enlightening.
Two major areas where clubs can encourage flexibility are cell phones and dress codes.  Telling a millennial he or she can't bring their cell phone is a deal breaker.  They're attached to them and connectivity may be the key to unlocking that chain locking them to their desks.  For sure, cell phone users can disrupt an enjoyable round of golf.  But take away the cell phone of an inconsiderate person, you still have an inconsiderate person and he'll find a way to be annoying.  When a club gets to the point of specifying the length of socks to be worn or the type of collar on a shirt, someone (especially new to the game) is bound to be offended and discouraged from jumping in.  Hold on, I'm not suggesting an environment of anarchy at clubs, but the length of someone's socks?  How would you like to be the golf pro who has to enforce that? Should valuable and talented staff members be wasting their time and expertise on such trivial matters? 
Yes, there are clubs that conclude they are immune to the financial pitfalls of other clubs.   No clubs are bulletproof and all need to appreciate the constant need to replenish membership rolls.  It is these high profile (and supposedly immune) clubs that have a responsibility to the game to present it as welcoming and inclusive versus aspirational and beyond reach.  The traditions of golf and clubs are great, and even cool in some cases, but progress is needed if our game is to thrive.
Just a few years ago, Golf Digest did an article on the "Best Damn Clubs" which profiled a number of clubs, some expensive, some not so much.  The key here is that these clubs, recognized as follows:  (So here we've identified places perhaps lesser known, but whose special atmosphere is tangible—almost hits you in the face the moment you drive in. Though members of the typical country club might share geographic proximity, similar financial health, a penchant for golf and maybe tennis or swimming, members of Best Damn Clubs share much more. The French call it esprit de corps, or the strong pride, fellowship and loyalty of a like-minded group) are known for their camaraderie and atmosphere more than their facilities.  Many clubs today are considered "stuffy".  These Best Damn" clubs aren't stuffy but are still considered highly desirable, by a much broader group of prospective members.
If golf is to turn the tide and experience economic growth, the top clubs should lead the charge to making golf more fun – changing the "culture".  If the USGA and R & A can turn 34 rules into 24, there's no reason all clubs shouldn't review their rules and streamline them.  Golf's hierarchy has taken some small steps forward.  It's now up to the leading private clubs to take the ball and run – for the good of the game.
Some Actual Examples of Rules:
In order to preserve the congenial, uncomplicated atmosphere of XXXX Golf Club, please refrain from using all mobile devices on Club grounds, except when in the privacy of your automobile or in designated phone rooms.
Hats and caps must be worn with the brim facing forward. Hats, caps and visors worn by gentlemen should be removed while they are under cover (Dining Terraces and in the Clubhouse). "No cover under cover." Gentlemen are to have their shirts tucked in at all times. Bermuda shorts are permitted for men and women. Knee length is preferred for both men and women, not to exceed 3" above the knee; golf skorts and skirts not to exceed 4" above the knee. Several items are considered inappropriate and will not be permitted on either golf course, on the practice range or in or around the Clubhouse: tank-tops, short sleeve mock turtlenecks (men only), T-shirts, denim of any color, cut-offs, tennislength skirts, short shorts, flip flops, Crocs, leather sandals (men only), cargo shorts/pants and jogging attire.
We ask that guests use the appropriate locker room for changing their attire.  Changing footwear in the parking lot is forbidden.
Men's Shorts Policy: Men may wear appropriate shorts for golf at any time of the year. Appropriate shorts include only substantially knee-length Bermuda shorts tailored for golf. No other types of shorts, including cargo, camping, tennis, athletic, cutoffs of any kind or denim may be worn. Only short golf socks (no higher than ankle length, such as peds or ankle cuff socks) may be worn with the shorts. No other types of socks, including knee-length, sweat socks or other athletic socks may be worn. Appropriate shorts may be worn throughout the lower level of the Clubhouse, and may be worn on the Terrace if there is a breakfast or lunch associated with a golf function. Shorts are never permitted in other areas of the Clubhouse.