In an era of declining participation, numerous course closures and the general perception that golf is in decline, I have often pondered what non-golfers think about golf.  One indication came in early 2017 when I was giving an educational presentation at the PGA Merchandise Show in Orlando.  Near the end of the session, one of the attendees asked what I thought was the key to turning golf around and making the game grow again.  My then college freshman son was with me and had just entered the session so rather than give my answer, I suggested to the questioner that we ask Jack why so few of his friends played golf.  His immediate and unbridled response was "because of the suits upstairs" which meant that golf was perceived by his friends (millennials) as a stuffy and stodgy game played by older, white men.  To this day, one of his lasting impressions of the PGA Show is of all the Titleist sales reps in their cream colored jackets and striped ties.
The non-golfer who watches golf probably sees the Masters and US Open (if any event) and each year the last image one sees at those events is older, white men in blazers and striped ties, often speaking in hushed tones presenting the spoils of victory to the winners.
As a member of the WE ARE GOLF Advisory Board (part of the World Golf Foundation), I see correspondence and attend meetings where the focus is often on growing participation in golf.
In both 2013 and again in 2019, a survey was conducted by the National Golf Foundation to measure non-golfers' perceptions of golf.  During that time period, perceptions of golfers, the game, and interest in playing improved.  These improvements have led to more non-golfers becoming fans, with nearly 2 in 5 watching golf tournaments and nearly one third showing interest in attending.   Non-golfers' perceptions continue to have a direct impact on their interest in playing the game and becoming a fan of the sport.
Of particular interest to those of us in the golf course and club segment of the industry is broadening the reach to encourage more people to play golf.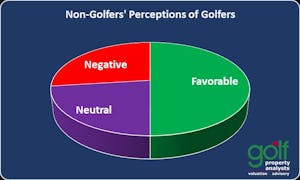 While fan interest seems strong, which is good for the PGA Tour and TV advertisers, I'm somewhat alarmed that despite improvement in the past 6 years, the study finds that roughly half of non-golfers have a favorable perception of those of us who play the game.  Why is that?  Are golfers too narrow a group to appeal to the broader, non-golfing population?  Have we not done a good enough job of introducing our friends to the game?  Is it too difficult for young people whose parents don't play to pick up golf?  Are we perceived as an exclusive group with limited gender, ethnic and economic diversity?  Are young people (millennials) rejecting golf in favor of more inclusive activities that are also more family friendly than how golf is perceived?
It is also of particular interest that the NGF study found that nearly half of non-golfers' see the game negatively and and a little more than half are neutral or perceive golf favorably.  Again, I wonder why.  Is golf too slow?  Do non-golfers perceive that golf isn't enough exercise?  Is it too hard or does it take too much time?  Is it too expensive?  Furthermore, just over one third of non-golfers' interest in playing is high or moderate with limited interest among the rest.
We have not done a good job of promoting the virtues of our game.  As I have often written, the culture of golf is not welcoming.  In order to grow, we need to change that.  It is my humble opinion that it starts at the top.  Certainly, the most exclusive, successful and upscale private clubs can do what they want.  However, it is those clubs that conjure up the images that seemingly put non-golfers off and lead them away from the game.  Most top clubs, where the golfers are typically more experienced, have numerous rules restricting cell phone usage, the length of one's shorts and even the height of one's socks.  Music (except with headphones) is eschewed and there are often more rules than most can remember.  Don't get me wrong.  Golf is and always should remain a "gentlemen's game".  We avoid disrupting our opponents and show due respect to our playing companions and the golf course.  However, if w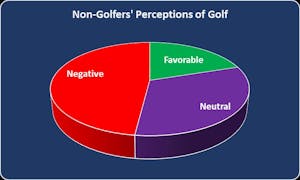 e want golf to grow (and all clubs have an interest in that) we need to understand why the next generation isn't playing and make it more appealing.
What's the answer?  That will only be determined by trial and error.  Should clubs experiment with allowing music, cell-phone usage and the wearing of un-tucked shirts and see if it truly inhibits the enjoyment of others?  Many investor-owned clubs and courses have already relaxed their rules.  With many upscale, member-owned clubs implementing stricter policies, the perception of non-golfers continues that golf is only for the privileged and those who might take up the game opt for something else.  Do the most exclusive clubs have a responsibility to the game to help broaden its appeal?  That's a debate that will go on and on.  The culture of clubs is such that those often involved in club leadership consider themselves as "traditionalists" and seek to protect many of golf's time honored (and sometimes outdated) traditions.  While many of those traditions are worth preserving, those that may be hindering golf's growth and negatively impacting industry economics could be reconsidered while preserving the intent of the missions of most clubs.