Last week, after a two year wait and along with several friends I took my son Jack for a golf trip to the Scottish Highlands to celebrate his graduation from Penn State (2020). While traveling these days has its challenges (Jack's clothes were AWOL for the duration of the trip), the effort was well worth it as we enjoyed classic links golf, typical Scottish hospitality and yes some Scottish weather (wind and rain) sprinkled in. Thank goodness for GoreTex, but at least it wasn't cold with temperatures topping out between 60 and 65 each day.
This being my 4th or 5th trip to the home of golf, I was prepared for all of it and I've embraced links golf in a most enthusiastic way. I love the 3 hour 30 minute rounds, the extra roll from the firm fairways lengthening my diminishing tee shots, and even the (now anticipated) surprise bounces one encounters on the classic links courses. As a member for a number of years at Royal Dornoch (recently ranked the #3 course in the world), we played the Championship Course there 3 times and the unheralded but nearly as good Struie Course twice. Club GM Neil Hampton joined us for a round proving that running a club doesn't erode one's golf skills and that the GM joining in on the post round fun upstairs doesn't hinder one's ability to successfully manage a club. We were also delighted to be there when renowned golf journalist Lorne Rubenstein received a well-deserved honorary lifetime membership in the club. After a solid week of golf, I returned home with more than half the dozen balls I took along and had a few birdies to go along with a few too many bogeys and others.
In addition to Royal Dornoch, we visited Brora, Tain and Golspie, all of which I've previously played and 3 new venues (to me) at Castle Stuart, Moray and Fortrose & Romarkie (F & M). Each of the first time visits were pleasant surprises and I hope to return to each soon. F & M, in particular had some of the best scenery one can experience on a golf course and offered some interesting and challenging shots. Walking 185 holes in 7 days, including 36 each of the last 2 days, earned a rest though I was already contemplating my next visit.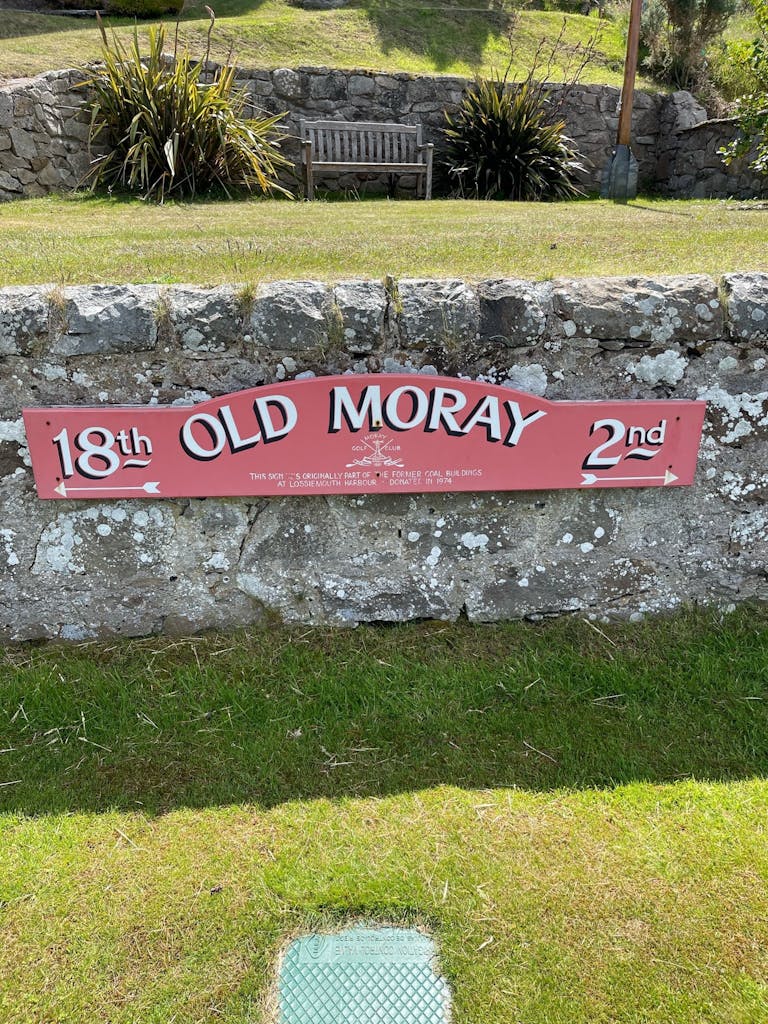 I've always been enamored with the culture of the game in Scotland. With few exceptions, golf, even at the top courses is an every man's game. Dress codes and rules are modest if not minimal. Things like cell phone usage and cargo shorts are rarely prohibited. Walking is the overwhelming norm and dues to belong to many of the best courses are modest, to say the least. We visited outstanding clubs with annual dues in the range of $250 to $700 after conversion. That makes golf an affordable game. It's not uncommon to to see dogs along for social (not competitive) rounds with their masters or sheep being herded across a fairway. Some courses provide "dog gloves" to clean up after your dog. Would one ever see any of that in the US?
Playing surfaces differ from the emerald green carpets we've come to expect in the US. It's not unusual to experience some spottiness in fairways depending on weather and greens, while usually true and undulating aren't as fast as most in America, with a reading of approximately 10′ on the Stimpmeter about the max. Maintenance budgets are significantly lower, owing not only to the climate, but also golfers' expectations.
Golf is not a status symbol in Scotland. It's the national pastime. In most cases, the caddies you use (when not carrying or pushing) are club members. On several occasions, I've had the local club champion on my bag. They're always welcome to join the golfers afterward for a pint, even if they're not members. In many of the small towns, the golf club is the center of social activity. Not only are dues reasonable, but so are food and drink. Visitor fees can be expensive, ranging from $80 to $250 (converted) at the most desirable courses and some having 9-hole rates as low as $30, with an honor system for payment of fees. Very few of the courses have bag attendants and most courses offer trolleys or powered trolleys for hire.
The best way to truly enjoy the Scottish golf experience is to have accurate expectations and explore some of the lesser known courses. Mother nature will rarely provide calm, sunny and 80 degree weather and one needs to be prepared for a variety of weather conditions during one round. The golfer must understand and embrace that. Once achieved, you get to experience golf as it was meant to be.