While the cause is debated, there is no argument that climate change is a real phenomenon. The broad reach of destruction from Hurricane Ida in August impacted many golf courses from the Gulf Coast to the Northeast and got me thinking about how golf course superintendents are impacted and how they plan and prepare for extreme weather as it becomes more extreme and more frequent. Dan Meersman, Director of Grounds at Philadelphia Cricket Club (PA) is what I call a super-super. He's a superstar superintendent who's been named national superintendent of the year and stands out among his peers, who include his father and brothers. I had the chance to quiz Dan on some of these issues recently.
First, I asked Meersman how the seemingly increasing frequency of severe weather impacts his job. The first thing he mentioned was weather forecasting. Improvements in forecasting accuracy allow for advanced preparation, which Meersman considers essential. Part of that preparation is being prepared to lose power. He emphasized charging batteries, topping off fuel tanks, sharpening tools and blades and securing rental equipment in advance if necessary and possible. Preparation for extreme weather events is focused on minimizing the loss of golf days. He says hurricanes/tropical storms provide more advanced notice while tornadoes are less predictable. Meersman emphasizes that tree management (pruning and removal of dead trees) on a regular basis can mitigate much storm damage but that many courses forego regular tree management programs due to cost. He also emphasized the safety risk of not adequately managing trees with examples of injuries and even death from trees falling on buildings at golf courses.
The impact on labor availability can be significant. When extreme weather hits a golf course, normal routes for staff can be blocked and emergency routes may be in use as a result of flooding or downed trees. Sometimes, all-wheel drive vehicles are necessary just to get staff to the course and providing such transportation is often a necessity. It's typical in storm situations to schedule those members of the crew who live closer to the course when those further away can't make it in. With sometimes limited labor resources, course managers have to prioritize. Since course closures have economic impact, getting/staying open and providing the best experience possible is primary. Meersman establishes priorities. Since most golfers focus on the condition of the greens, he prioritizes getting the greens in the best shape possible after a storm. Next comes fairways and other "low-mow" areas to preserve turf health and then primary rough areas. Bunkers are often a low priority simply because they are considered a hazard. Meersman acknowledges a fine balance between getting open and maintaining a quality experience and says it's often prudent in some cases to stay closed an extra day or two so golfers have a good experience.
After a severe storm event, in order to preserve labor resources, maintenance practices may be slightly altered. For instance, greens typically double cut with walk-mowers may be single cut with tri-plex riding mowers. Divot filling and other hand labor may be skipped for a couple days so more of the crew can focus on cleanup efforts.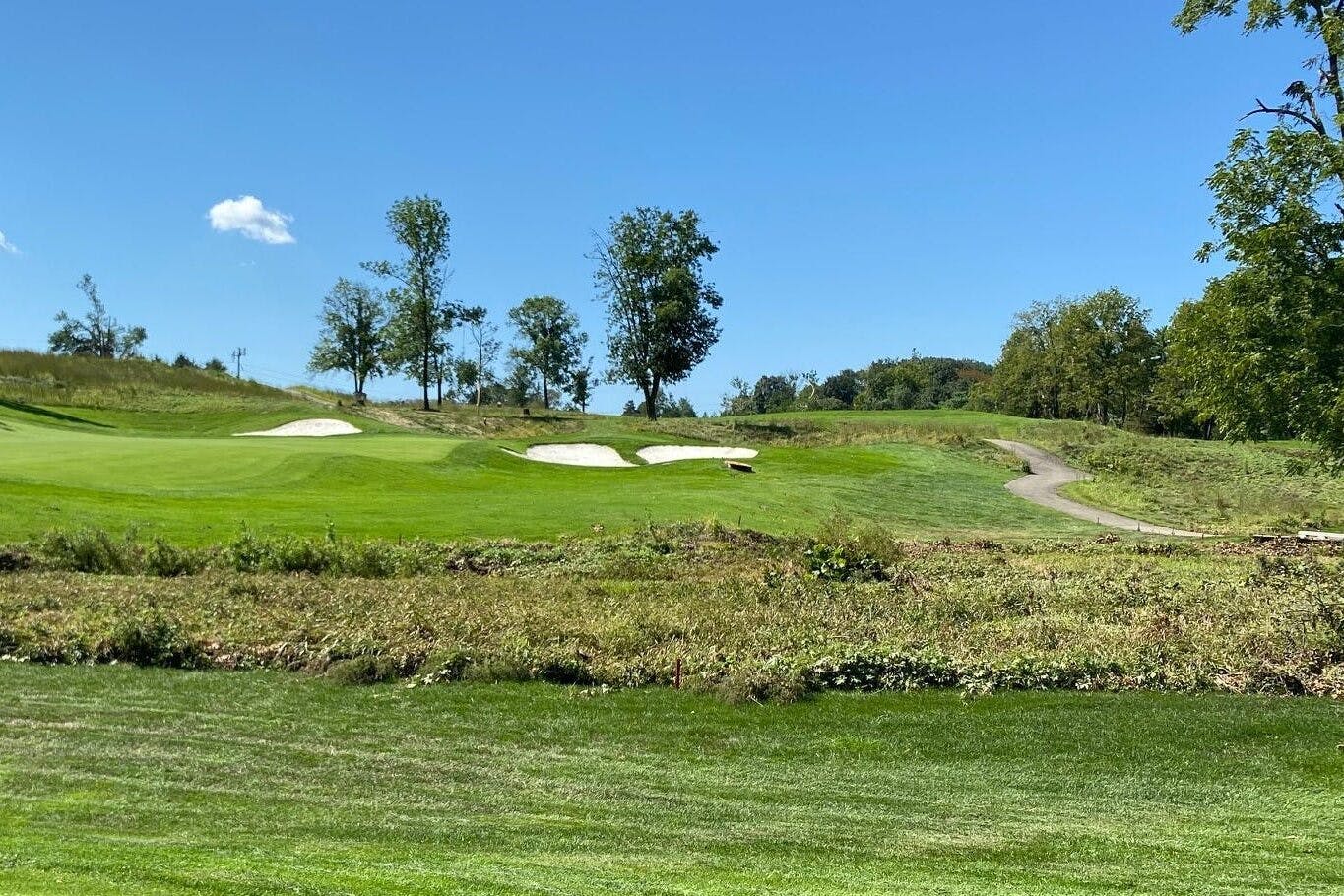 Throughout our conversation Meersman focused on tree management, especially for lower budget courses. Not only can tree management mitigate damage and safety risks, but the lower budget course that may have significant tree cover can potentially allow a tree company to harvest the trees, take the wood and be paid for it. Thus, proper tree management in some situations can turn out to be profitable as well as beneficial to the playability and safety of the course and minimizing the impact of future storms. Properly caring for the existing trees is essential. Pruning a tree keeps it lighter and reduces the risk of loss, especially of "sacred" trees. They can also be protected from lightning strikes and "backup" trees can be planted to minimize the impact to the course design if a sacred tree goes down. Mature trees can also be transplanted (at significant cost) or a lost tree can be replaced in some instances with native grasses or other hazards that might improve the playability and challenge. Backup trees can provide a longer-term "insurance policy" against losing a sacred tree that will maintain the age and scale of the hole once a "sacred" tree is gone in the future. In some cases the loss of trees from a storm can actually be beneficial to a golf course.
Long term impacts from a maintenance perspective can actually benefit from the loss of trees and Meersman promotes modern bunker liner products and more drainage wherever possible. Flooding is a significant issue with many golf courses which cannot often be prevented, however he emphasizes that many courses in flood plain areas may not have been developed as golf courses if they weren't in flood prone areas in favor of more lucrative development.
When I asked about his observations relating to climate change, Meersman indicated that every year seems to present a different weather challenge that impacts his maintenance plans. It could be severe weather like he just experienced with Ida and its torrential rain and tornadoes, excessive heat and dry weather or constant rainfall impacting his ability to control moisture. In the case of Ida, staff was unusually impacted as it came on the heels of aerification which creates an already busier than normal two weeks.
All golf courses should have a maintenance plan. It should include planning and preparation for extreme weather events and in most cases more tree management than most courses practice. Not only can such a plan enhance and expedite the response to storms but it can enhance course safety and minimize course closures and lost revenues. The result can be a course that is more profitable and more valuable if and when the property is sold.