Bill Kubly is a golf industry superstar. For more than 45 years, the company he founded, Landscapes Unlimited (LU) has been the world's premiere golf course construction company, Having built 300+/- golf courses and done numerous renovation projects, in addition to a variety of turf related projects like sports fields, parks and other recreational facilities, he speaks from experience. It all adds up to about 2,200 projects and LU also owns or manages 70 courses and developed 25. Kubly, now 72 (and still shooting in the 70's) has turned over the day to day management of the company to son-in-law John Pugliese, who along with (also son-in-law) Jim Flynn are currently managing 30-40 projects, of which 5 are new golf course constructions. He's still very active, but also focused on the goal of shooting his age as soon as possible.
During his 40+ years in the business, Kubly noted significant changes in several areas, including:
The use of more leased equipment, due to project size and location diversity
Bunker construction and styles, most notably drainage systems
A focus on the laser-leveling of teeing areas
The cost and sophistication of irrigation systems
He notes the quality of bunkers and lining systems, along with modern irrigation systems with the HDPE piping and easier electronic installation and more precise watering capability as the most significant improvements in golf course construction.
Like most professionals in the golf course industry, Kubly and LU are stewards of the environment. They promote better spacing of irrigation heads and more precise control to conserve water. To those who perceive golf as not being environmentally friendly, Kubly notes that golf courses help "clean-up" the atmosphere, control erosion and water flow, enhance views, preserve open space and generally do a better job of preserving the environment on many sites left to nature. Kubly notes that American golfers are now embracing the brown, firm conditions found in the UK and Scotland and that courses like Sand Hills in Nebraska with lots of fescue grasses and using less water and maintenance are in vogue and the goal of many clubs.
He sees erosion control as much more important than in years past and senses that of late wetlands and erosion regulations aren't as scrutinized. Kubly emphasized that often environmental issues are "taken out of context" and that individual elements are often scrutinized at the cost of improvements that might enhance the overall environmental profile of a project.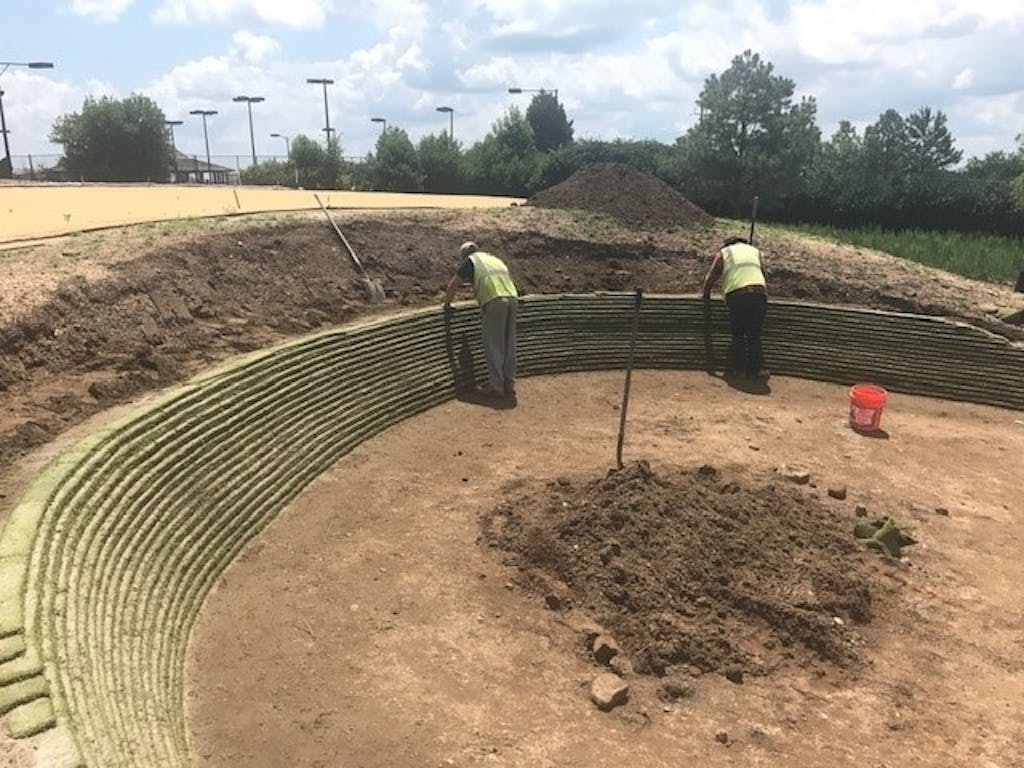 The minimalist style of golf course architecture has enhanced the environmental sensitivity and cost-effectiveness of many golf courses, but Kubly says it's difficult to promote a course to become a highly ranked course in many instances because it often needs great irrigation, numerous and prominent bunkers and high level maintenance, all of which increase cost. There are exceptions, of course and he mentioned Lester George, Coore-Crenshaw and Mike Hurdzan (among others) as architects particularly skilled at being both cost-conscious and environmentally sensitive in a profession loaded with skilled professionals in those areas. He does see more features and increasing costs in the future as architects and developers continue to compete for notoriety
Being a builder and renovator of courses, I asked Kubly about the distance debate. He believes the ball should have been restricted for pros BUT acknowledges that the average golfer has benefitted and experienced enhanced enjoyment as a result of equipment improvements. Kubly anticipates growth and more usage of golf courses and those markets needing more capacity seeing development of courses. However, he warns that golf course development will continue to be a challenge economically to produce adequate returns. I asked Kubly to "shout out" some of his favorite projects and he mentioned 3 where he was also in a developer role. These include Sutton Bay (SD), Ballyhack (VA) and their latest project, Lost Rail (NE) which is currently under construction.
Bill Kubly brings a unique perspective to the golf course industry. LU has developed, built, owned and managed courses and built a successful business in an industry that's been more known for distress than success during the past 30 years. His insight for the future should be of great interest.