In the worlds of golf property appraisal and brokerage our actions typically center on one fundamental question: Who's the buyer?
The golf course industry consists of numerous market segments as outlined: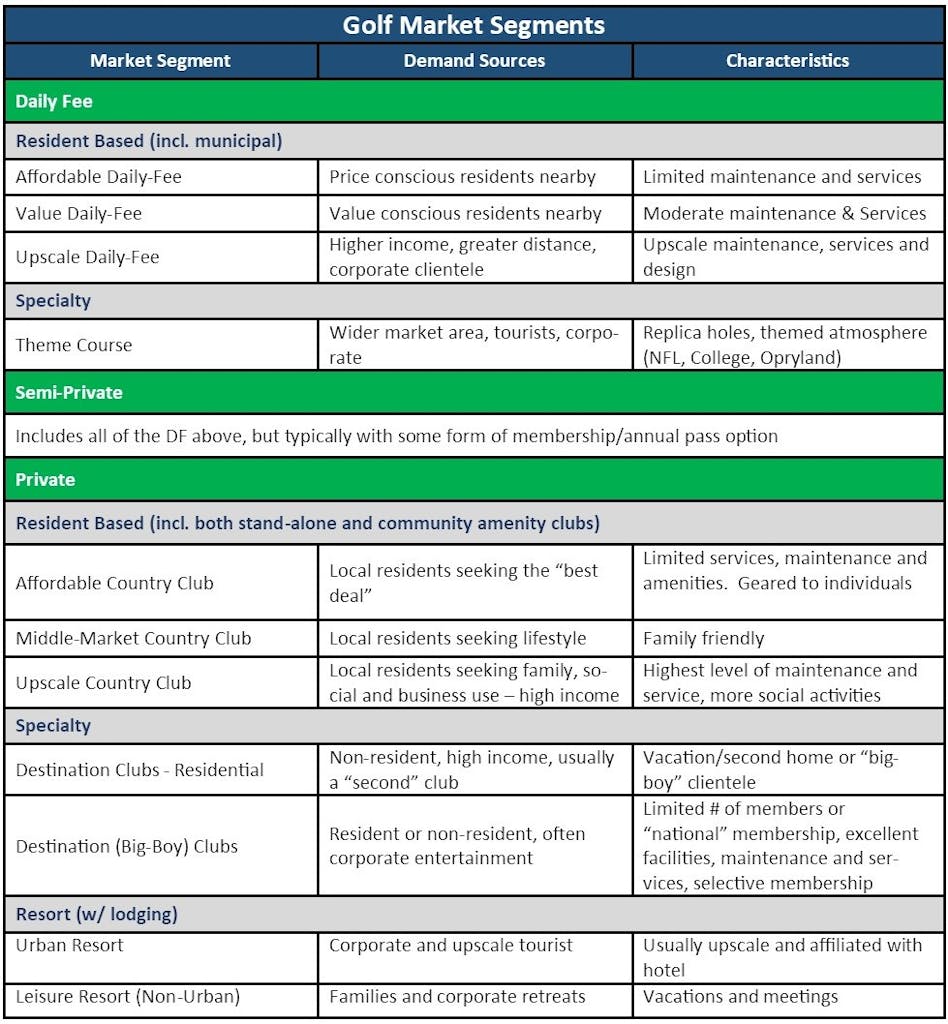 In many cases those who acquire and operate golf properties focus on one or more of these segments and often further focus on properties with certain levels of gross revenue.  Properties with higher revenues are typically attractive to the well-known golf management firms like ClubCorp, Concert, Troon, Billy Casper and others, while those with lower revenues might be more suitable for the "local" investor or new entry into the golf business.  When appraising or marketing a golf property it's incumbent upon us to understand who the market for a specific property may include.  If marketing the property for sale, it's imperative to know how to reach that market to give the property appropriate exposure to relevant market participants.
When appraising a golf property, it's critical to understand who the market includes to ensure that the comparable sales considered in the analysis are competitive with the subject and would've also been considered by the universe of buyers for the subject property.  In the appraisal world they call that the principle of substitution.
From my perspective, it is critical to compare "apples to apples" and as we see in the market segmentation chart, golf courses come in a variety of "flavors".  I often see golf property appraisals where the appraiser will find whatever golf course sales are available, fit a bunch of them onto a pretty spreadsheet and insert into the appraisal report whether they're actually comparable or not.  An upscale private club in California is simply not comparable to an affordable daily-fee course in Massachusetts.  Yet, many inexperienced appraisers, often doing a golf property for the first time will simply conclude that all golf courses are comparable.  They're not.
It's not uncommon for brokers or appraisers to simply calculate an average of gross revenue multipliers from a variety of sales to either value or price properties for sale. Conversely, it is more appropriate to use only sales that have similar characteristics in the areas of region/climate, revenues and type of property (DF, PR, SP, Resort, etc.) when at all possible.  This ensures that the information being utilized is truly comparable and not simply representative of any golf course.
Determining comparability or identifying potential purchasers for any property requires an understanding of what market segment the buyer may come from and what their motivations might be.  Once that is accomplished, the marketing or appraisal process can proceed with proper direction and a good chance for success.
As illustrated, there are many flavors of golf course properties and each has its own specific characteristics and market.