Last month, I visited Columbus, Ohio to take in the Penn State/Ohio State football game.  Unfortunately, my Nittany Lions weren't able to overcome OSU's considerable talent and lost 28 – 17.  However, I did get to finally visit one of the coolest places in all of golf.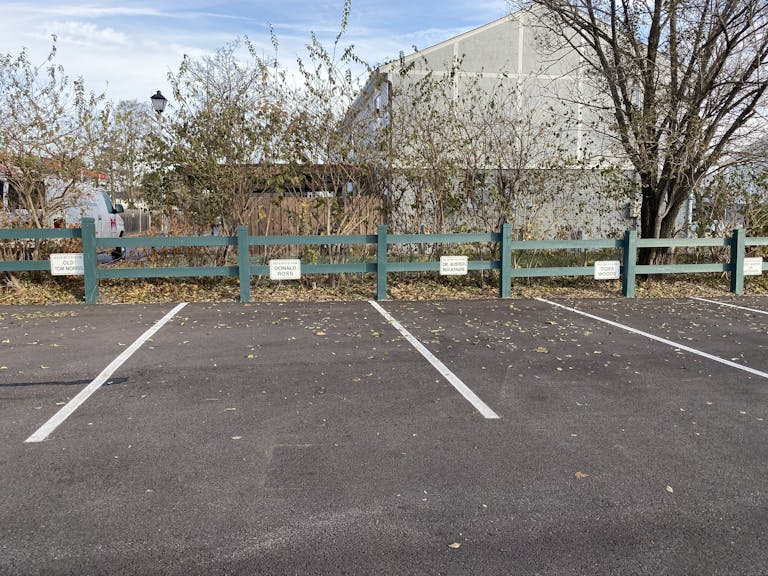 I've known renowned golf course architect Dr. Michael Hurdzan for a long time.  Before retaining he and his firm to design a golf course project I was involved in about 18 years ago, I had been privileged to work with him on several assignments and in a successful golf industry effort to motivate the IRS to allow depreciation of golf course improvements.  I always knew he was "one of the good guys" and had heard about his prowess as a golf collector and the showplace his office had become.
After pulling into the parking spot reserved for Dr. Alister McKenzie, Friday night, I finally got the chance to visit the office and see what is essentially a museum to the evolution and culture(s) of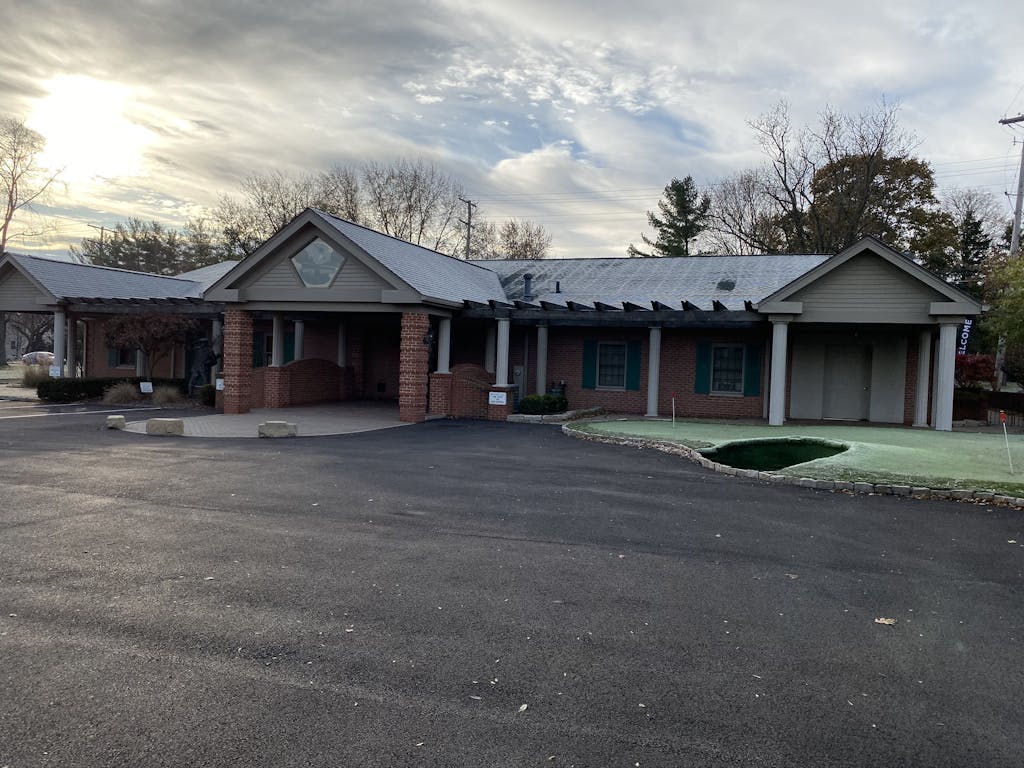 the game of golf.  Mike was nice enough (there's really nobody nicer) to interrupt his weekly date night with Linda, (Thanks for sharing Linda) his bride of 44 years. My son Jack and I, and two friends of ours had a real treat.  For about an hour and a half (could have been 3 times as much) we toured golf fantasyland, which doubles as a functioning golf course design shop of about 4,000+/- square feet.
Having once developed an office with an outdoor (bentgrass) putting green, I knew Mike and I were kindred spirits long before I drove up and saw the outdoor putting green (complete with bunker), which he was smart enough to do with synthetic turf.
Quite the scholar, and author of 6 (soon to be 7) books, Mike's library has logged 6,756 golf books, not counting magazines, newspapers, newsletters and bulletins.  450 of these books were signed by the authors, among whom I'm privileged to be counted.  It's quite impressive, to say the least.
From the library we navigated over to the work area but not before seeing walls covered with animation artwork (serigraphics) framed and presented as pieces of art – all golf related.  In the work area there's a large work table enabling the enthusiastic exchange of ideas, plan modifications and review.  This area is surrounded by individual offices, each containing completely covered walls with a variety of golf artifacts, articles, photos and plans, each of historic significance. As one might expect there's a golf hole sunken into the floor with the carpet "stimping" at about 10′ so the gang can productively work on their putting.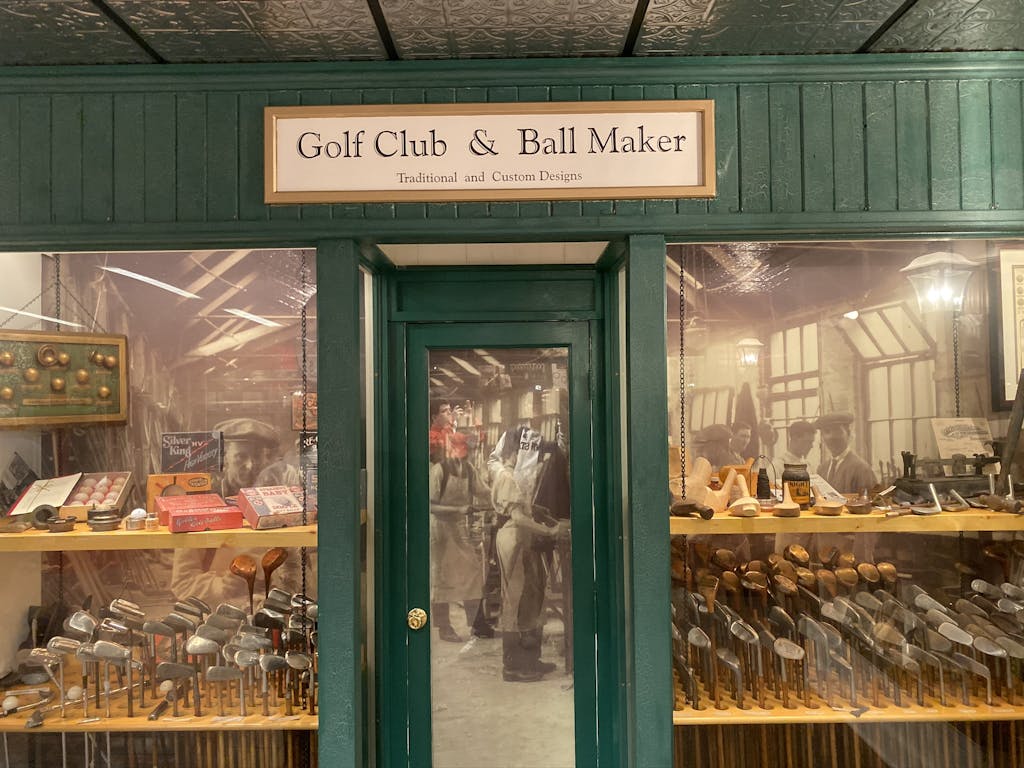 Of particular interest to our contingent of Philadelphia Area guys was the authentic wicker basket "flag" stick obtained by Hurdzan from a former Merion Golf Club superintendent.  How many people would like to have one of them?
Throughout the space there are numerous examples of antique golf clubs (more than 8,000 in all), including a water iron (think about that for a minute), various sand clubs and of course, drivers and putters.  Most are hickory shafted.  There are also some significant but slightly more modern golf clubs, including President Eisenhower's Walter Hagen (Haig Ultra) irons that many of us will remember from the 60's and 70's.
As if we weren't already overwhelmed, Mike then took us to what he called "the fun area", which is best described as a replica of the center of a small Irish or Scottish golf town with store fronts for the golf shop, pawn shop, clubmaker, and of course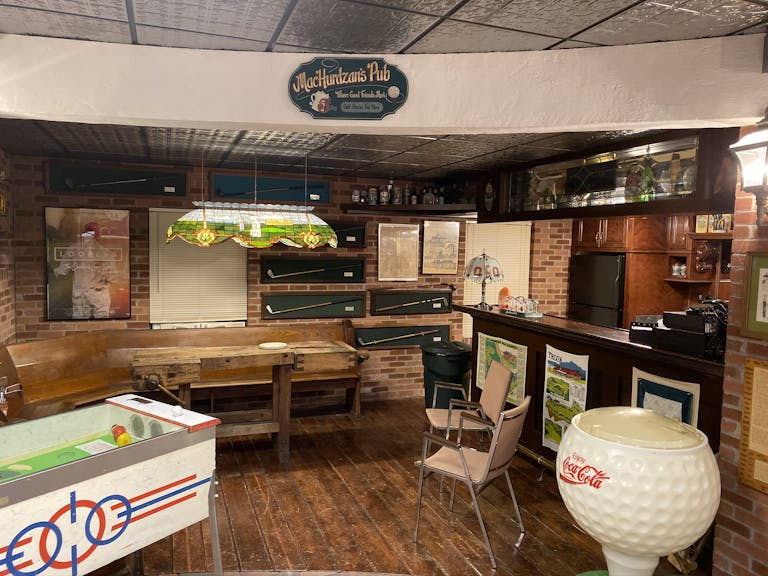 "McHurdzan's" Irish pub, where there's actually a working bar with draft beer.  There's also a fully equipped clubmaking workshop where Mike and his son Chris work on hickory shafted clubs.
Of course, also scattered about are the numerous awards Mike has received as past president of ASGCA, and recipient of the Old Tom Morris Award, the Donald Ross Award and Don Rossi Award from the GCSAA, ASGCA and GCBAA, the "Grand Slam" of golf course industry awards.  Mike has always been one of the most interesting and respected guys in golf and having had the privilege of working with him on several occasions, I know that respect is well-earned and deserved.