In my home state of Pennsylvania, golf courses have been closed for the past 4+ weeks due to the Coronavirus Pandemic.  We are now among 15 states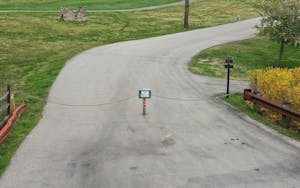 with statewide bans, according to the National Golf Foundation (NGF).  Many other states have local restrictions.  The NGF estimates that nationwide, approximately 48% (up from 44% last week) of golf courses are open for play.  This being April, many golfers, especially in the northern states have the itch to play and Mother Nature has done her part with generally great weather.  Many courses had their best first quarter (Jan.-Mar.) ever and are now shut down with no revenues.
With the criteria for opening businesses generally relying on what is considered "essential", I looked up the definition of the term.  Dictionary.com defines essential as absolutely necessary, indispensable.  While it wouldn't seem that playing golf is essential,  you'd be hard pressed to find too many avid golfers, let alone course owners who agree.  The golf industry has identified a series of practices and precautions designed to make golf safe and compliant with social distancing.  So, why aren't golf courses universally open for play?
In Pennsylvania, Governor Wolf compared golf with Fishing (permitted) in this video and unfortunately failed to demonstrate enough knowledge about golf to sound sensible in his reasoning.  Later he released a statement explaining further his reasoning:
The most important thing to do is to stay at home and stay away from other people to stop the spread, but;
Mental health is important, and;
Things that you can do outside that help mental health and do not add undue risk because they do not require close contact with others are okay.
Golf simply needs to do a better job of arguing its case AND demonstrate how social distancing can be ensured.
An interesting perspective was shared with me by an insightful golf buddy, Kevin, who suggests to the golf industry some better preparation in formulating your case:
As applied to fishing, the state's action is overbroad, but not completely. It assumes that people will be fish while maintaining social distance. It certainly is true that this is probable in most cases, but it's not guaranteed. However, it doesn't have to be guaranteed in order to allow the behavior to occur. It's not guaranteed at supermarkets or gas stations, either. This fact is good for golf. Don't get mad about the difference; use it to your advantage.
It's important to recognize the strengths and weaknesses in your argument. Gov. Wolf is not wrong that fishing is less of a risk than golf, and it would be silly for golf to argue otherwise. Consider why:
Fishing venues have no gatekeepers. Golf has many gatekeepers. 
Golf is more social than fishing. Golf is generally played in groups; fishing is not generally done in groups.
Fishing doesn't require everyone to go through the same part of the stream or park. In golf, everyone plays the same course and encounters the same doors, flag sticks, benches, ball washers, cart handles, and so on.
With that in mind, use the precedent to your advantage and address the weaknesses in your argument to help support the result you want:
Require contactless payment for public golf;
Close buildings except for bathroom access;
Remove ball washers, benches, maybe even trash cans and tee markers;
Raise the cups or plug them like the other states are doing; maybe even require sanitizer stations by the greens or tees;
Disallow facility-provided push carts and motorized carts without a medical note;
Standardized cart sanitizing;
Maintenance crew sanitizing standards;
Consider guidelines that reduce the frequency of course maintenance in order to protect grounds crews;
Consider reducing group size;
Stress comparisons of social distancing in golf with other activities (grocery shopping, etc.);
Stress the mental health benefits of golf as a form of outside exercise;
Force private facilities to disallow guests; force public facilities to limit access to PA residents.
While I agree with Kevin on each and every one of these points, I also implore golf courses and clubs to aggressively monitor and enforce social distancing guidelines tailored specifically for golf and to have a mandatory orientation on these guidelines for each group at the beginning of their round.  Unfortunately, not all golfers have the golf IQ that those of us who play frequently have, and they need guidance on how to stay safe.  I know of one avid golfer who lives in a state where golf is permitted and will only play by himself for the time being.  He's having trouble finding an open time.
It is obvious that social distancing is the most effective weapon in the battle against COVID-19.  In order for golf to be played, it should be safe and players must observe the rules.  That's not always the case as emailed to me by a course owner in Virginia (where courses are open), who closed the course and wrote to me:
Course closed for play in March – too many patrons totally ignoring the social distancing and any other public health instructions.  Staff were getting very concerned for their own health.  Actually the Governor has not closed golf courses, much to my dismay as an epidemiologist, and ABC is open and fairly busy according to my staff.  Our patrons were literally shaking hands and laughing about how the whole social distancing rule was ridiculous.  Not good.  Even now we have folks doing things like playing soccer on the fairways, so way too many people just don't get it.  Unless someone they know gets really sick or dies from Covid-19, the response will be "not my problem".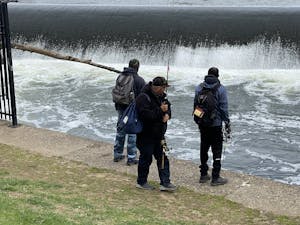 I (like most golfers) want to get out and play.  It has to be safe.  The Golf industry needs to be proactive.  We might even broaden the game's appeal and experience the growth that's been sought for a long time.  Let's make sure others know the benefits of the game while showing the world HOW golf can be played safely in these unprecedented times.    I understand where Gov.
Wolf is coming from and if he (and other governors) had been educated by the industry and been given common sense guidelines, maybe golf would be more widely available during these challenging times.
Golf may not be "essential" but it can be played safely in the era of social distancing.  Fishing?  As shown by these gentlemen fishing in Philadelphia's Schuylkill River this past Sunday, maybe not always.  Because golf can be played without ANY touching of others, their equipment or mutual areas of the golf course we have an advantage over other activities (racquet sports, basketball, football, skiing, softball/baseball and others).  Fishing (unlike golf) has nobody monitoring the fishermen to ensure safety.  Golf is the ideal activity to provide all we need in these trying times.