Is a recession in our near future?  I'm no economist, but enough of them are predicting one that it would seem prudent to prepare accordingly.  Some think it will be sooner than we might expect, as articulated by economist Sven Henrich for CNN.  The president, running for re-election would prefer we view the economy more positively and credit him accordingly next November.
Regardless of how you view current economic conditions, the potential for economic downturn after 11 straight years of expansion warrants consideration, at the very least in planning your club's future.  Pilots are taught to "stay ahead of the airplane" and what I am suggesting here is that golf and country clubs (especially member-owned), often burdened by a cumbersome decision-making process seek to similarly stay ahead by planning intelligently for the future.
Though it may sometimes seem so, clubs are not islands unto themselves.  Like other businesses, clubs are impacted by external conditions.  Even the most successful and prestigious clubs need to understand their market, their strengths and weaknesses and the vulnerability of their membership.  For sure, I've learned that NO CLUB IS BULLETPROOF in an environment of declining participation and competition from a variety of activities for the recreational dollar.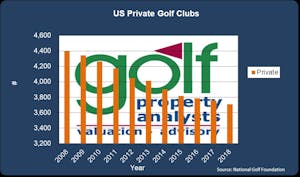 Since the last recession in 2008, the US has lost nearly 16% of its private clubs.  Many have simply closed while some have become open to the public.  What can your club do to be ready for the next recession?
While it is abundantly clear that those clubs which avoided reinvestment in their facilities suffered the most, there are also examples of clubs that over-invested, accumulated excessive debt and failed.  Some were rescued by private equity backed investors.  While this can be an option in some cases, the requirement for profit most certainly changes the culture of a club and may impact how some members perceive its desirability.
In order to avoid becoming a casualty, clubs have to plan effectively.  While it's no secret that clubs that don't move forward seem to struggle it's also quite common for clubs that implement assessments to experience resistance and membership attrition as a result.  What's right for each club is different, however the planning to be done must include an objective assessment of the club's market and market position, along with accurate, objective and realistic analysis of the desires of both current and potential future members.  Timing should also be considered, especially as it relates to broader economic conditions.
Some club leaders and consulting firms advise clubs from the perspective of facilities and space planning and design.  Others view clubs exclusively through operations and still others from a purely financial perspective, often focused just on cost.  Each of these perspectives can only be effective if viewed as part of the whole, considering the others as equally critical to the success of the club.  Integrating market analysis, cost of improvements, revenues and expenses and the desires of the membership are all equally important components of the overall decision-making process.
For instance, let's say a club has a dated banquet facility and clubhouse member areas are similarly "tired".  The club has an attractive golf course with aging infrastructure (irrigation, cart paths and bunkers) on a size challenged site and boasts a very desirable location which is convenient to a large number of potential members.  There are funds for improvements but they are limited and to address the entire wish list would require debt above their available funds.  What do they do?
First and foremost, any club has to determine what it wants to be and what it can be.  The (hypothetical) club in question is limited by its lack of available land and limited funds.  They have a decent sized core golf membership and an aging house membership.  The food & beverage operation loses money (like many private clubs).  The first decision the club has to make is whether it seeks to focus on golf or F & B.  If the F & B facilities are upgraded, will it produce enough revenue to pay for the improvements?  If the golf and member facilities are upgraded, will it attract more members and possibly allow the club to establish entrance fees?  While estimating the costs of these improvements is a big part of the equation, understanding the club's market position is even bigger.  Where is there more competition?  Golf or F & B?  Where is there opportunity for growth?  In both instances, the answers are found through sound market analysis.  In other words, before even considering the cost of various improvements, examining the market, the club's market position and the club's limitations and potential as dictated by its "bones", infrastructure and location is necessary to understand the market and the club's existing and potential market position through sound market intelligence and objective analysis.
All clubs have wish lists.  All clubs need to move forward.  Sound decision making requires forward vision, from the perspective of present and future members and with consideration for both the advantages and disadvantages of any project, including future anticipated benefits and challenges.  Just like the pilot considers the weather enroute and at his/her destination, club leaders need to consider all these elements when planning future improvement projects at their clubs.  Just like a distressed club can suffer from doing nothing, even the most desirable and successful clubs can get caught over-improving or a poorly timing a project.
Below is a checklist for information needed before making decision on club improvements:
Competitive Market Survey/Analysis
Economic Analysis
Site and Facilities Analysis
Geographic Member Analysis
Financial History Analysis
Membership History
Cost Estimates
Club Activity Analysis
SWOT Analysis