Among the things we track at GPA are trends in the golf course industry.  I decided to look through our database and do some analysis of regional markets to better understand how our industry is evolving.
This month, we're focusing on the private club segment in the Mid-Atlantic region of the US.  We've queried our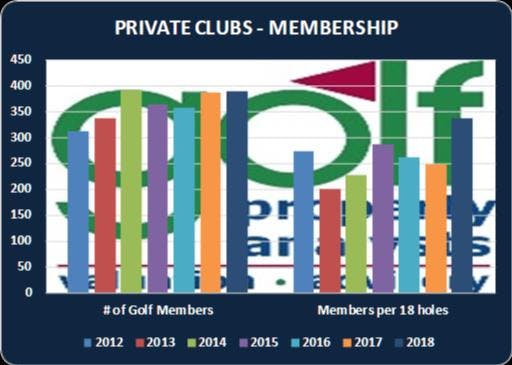 database for all the private clubs we've surveyed during the past 7 years (back to 2012) in the following states:
Pennsylvania
New Jersey
Delaware
Maryland
New York
This research yielded approximately 500 private clubs surveyed in the region during that period so we broke them down by year to observe some trends.
With private clubs, typically the most important indicator is membership.  We looked at how many golf members the clubs surveyed reported in each of the years as well as calculated the number of members per 18 holes of golf in each year.  Generally, to no surprise membership has increased over this period with the average of all clubs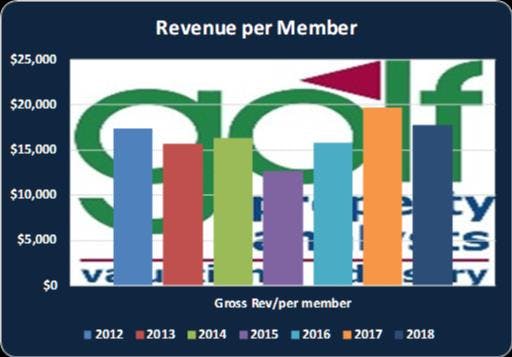 during the period ranging from a low of 312 members per club in 2012 to a high of 398 in 2017.  This declined slightly in 2018 to 390 members per club which is likely a result of the differences in clubs surveyed and markets observed.  With several clubs having multiple golf course facilities, we calculated the average number of members per 18-holes, which ranged generally between 228 and 288 members per 18-hole course, with the exception of the 2018 figures which indicate over 335 members per 18-hole course.  This is likely due to the preponderance of larger, major metropolitan clubs we've worked with this year.
While many focus on a club's activity based on the gross number of rounds played each year, I've always found that the character of a club can often be defined by the activity of the membership.  In other words, how many rounds per membership (including family members, guests and outings) are played.  This yielded an interesting conclusion.  In 2012, the first year of our analysis, the average Mid-Atlantic club generated 69.3 rounds per membership, according to our surveys.  In 2018, that number hadn't changed much, being 69.77 rounds per membership.  The low during the period was 2014 at 58.85 and the high was 2013 at 73.9.
Another benchmark we look at when analyzing clubs is the revenue.  The clubs surveyed averaged between $4.9 million and $6.1 million in gross revenues, with the exception of 2017 when we seemed focused on larger clubs that averaged more than $9 million in revenues.  Revenues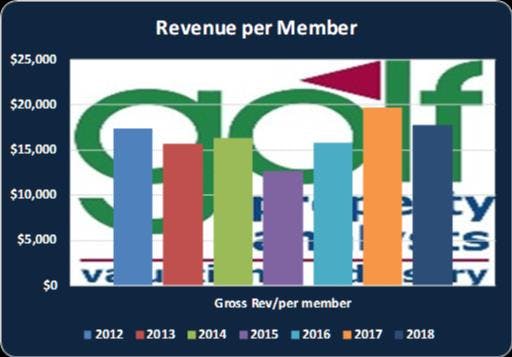 per member ranged generally from $15,700 per member to $17,800 per member, with low and high outliers in 2015 ($12,723) and 2017 ($19,786), respectively.
While the graphs show a general pattern of growth, especially in membership that growth does not appear to be stable as competition continues to dominate the private club space.  There are numerous variables that warrant consideration, including whether a club has invested in its facilities and infrastructure, which can impact these indicators significantly.  This represents just a small look at some of the data that impacts the market and that we use in analyzing golf courses and clubs.  The graphs illustrate some of the observations we've made in our practice during the past several years.
To learn more about how your club is faring, contact us and we'll show you how your club can determine its fair share and perform as it should.