In recent years, many clubs have embarked on significant capital projects focused on deferred maintenance, facility enhancements or both.  Many of these projects were motivated by the impact of the Great Recession on their clubs, both economically and physically and on the golf and club market in general, which has seen the closure of over 1,000 golf course facilities (6+%) nationwide.  It is widely perceived that those clubs which undertook enhancement projects during this period have experienced membership development success at a higher rate than those clubs that did not.
As the United States enters its 11th year of economic expansion, the longest such period of expansion in history,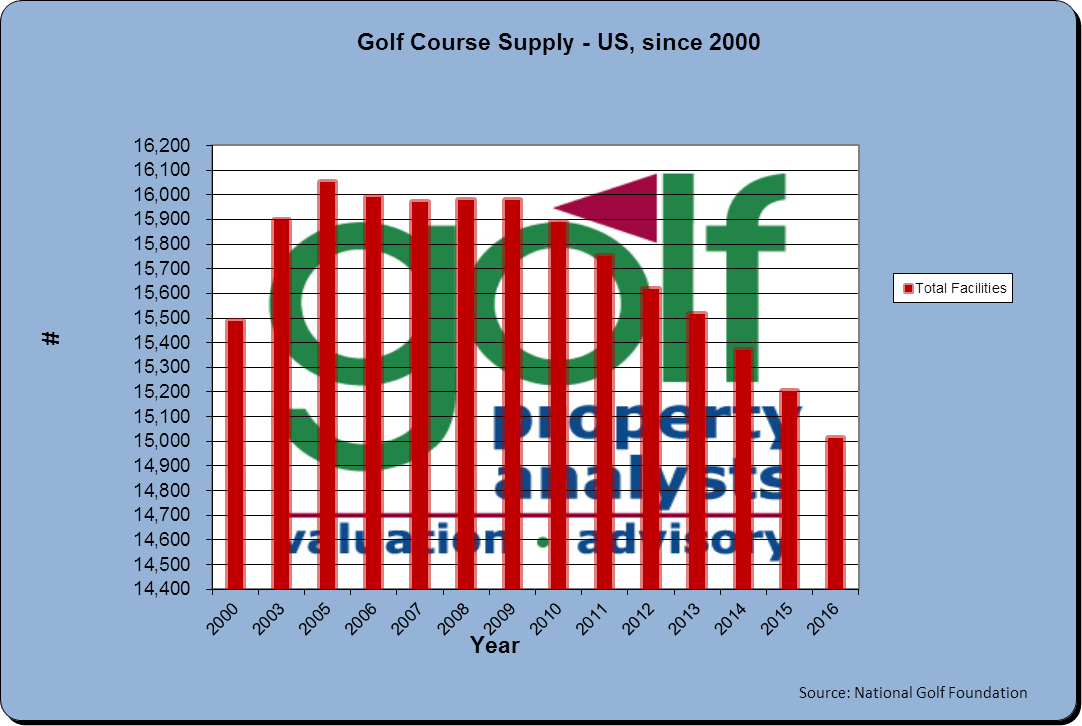 many clubs are considering either initial capital projects or additional improvements.  Is now is the time to embark on these projects when many economists speculate that a cyclical recession is on the horizon?  An article from Fortune Magazine in June of 2019 indicates that most economists predict a recession prior to the 2020 Presidential Election.  What does this mean for private clubs?
I recently wrote about the differences between deferred maintenance and capital improvements as follows:
Deferred maintenance results from regular maintenance or replacement being deferred, frequently to the point of becoming problematic.  If a roof is past its life expectancy and begins leaking because it wasn't replaced in a timely manner, or because replacement reserves weren't established in expectation of replacement it becomes a capital need as a result of the deferral.  When improvements or expansions to facilities are contemplated, such as adding parking or developing a practice facility, that would be considered capital improvements.  Confusion occurs when significant capital is required to address issues that were neglected due to deferred maintenance.
These need to be separated in order to consider objectively.
Given the politics that exist at many clubs and homeowners associations, pet projects of club leaders often take center stage and get primary consideration, whether deferred maintenance or capital improvements.  Either way, all clubs should budget an annual expense for each and calculate those reserves in a detailed manner through a capital reserve study and analysis of normal maintenance costs.  Though more difficult to predict future desires and needs, capital improvements should also be funded through an annual contribution to a fund established for that purpose.
Any club planning requires consideration of what items are "mandatory" (deferred maintenance) and which are "elective" (capital improvements).  With the prospect of a looming economic downturn does that impact how a club should move forward with planning capital projects?
One of the most significant flaws I see in club planning is that many clubs take a restricted view of things limited to the specific club in question.  Club leaders are often so focused on their club that they fail to observe the competitive market dynamics and often general economic factors as well.
As I wrote recently:  Sometimes private clubs, exhibit an "island mentality", meaning that often club leaders (who have an emotional attachment to the club) and membership fail to evaluate their surroundings (competition), learn from their mistakes and simply implement their wishes and desires without any objective analysis.  Today, in an ever more competitive membership environment there are fewer and fewer clubs able to succeed staying "inside the box" and being able to respond to objective and accurate data from peer clubs is critical.  Accordingly, clubs can make informed and more intelligent decisions void of the emotions often a part of club decision-making by consulting with outside professionals who bring objectivity to the process.
Market Intelligence, provided in an objective, unbiased manner with no predetermined conclusions can be the difference between success and failure.  Understanding that just because a few board members seek a certain pet project, doesn't mean that the larger membership wants it or that it will enhance the club's economics or future membership development.  Understanding a club's culture, its competition and its market position is vital to sound decision-making.  There are times when a club should spend/invest more and times when they shouldn't.  Knowing which demands real market intelligence and objective analysis of same.
For sure, many clubs are doing well now.  Membership has recovered at some to pre-recessionary levels and even beyond.  Other clubs have ceased operations and still others are "plodding along" or still struggling.  If we've learned anything from the Great Recession it should be not to get caught blindsided, as many did.  The circumstances are much the same.  The housing market has been strong, job creation is up and those with enough money to invest in the stock market have seen substantial gains.  There's also increasing federal debt, increasing deficit levels, a widening wealth gap between rich and poor and international uncertainty leading many to believe that the economic expansion is on less than a firm foundation.
Accordingly, private clubs should be considering their market position, the depth of the competitive private club membership market and the comparative facility and amenity offerings at other private clubs in developing both short and long term plans for their future.  These plans should include consideration of dips in membership levels, which would likely reduce or eliminate entrance fees and disruption of normal business from any capital projects that may be implemented.
Projects planned or being considered for implementation should include some intense value-engineering to ensure that any projects are done in the most cost effective manner and are designed to solve the relevant challenge rather than simply appease the desires of members with influence or provide business opportunities for select members.
Depending on the club, its specifics and the market, even with a looming economic downturn, now may (or may not) be a good time to embark on capital projects.  Sound decision-making, backed by independently gathered market intelligence and analyzed objectively can support whether the timing and the scope of the project are right.