Saturday Night I was at my buddy's wedding in Colorado when I got the news from my son Jack that Arnold Palmer had died. Since Jack is a reporter for the Penn State student run newspaper The Daily Collegian, I heard a bit before the alerts we've all become used to on our smartphones. Scheduled to deliver a toast, it occurred to me that my buddy (Ed Dowling) was much like Mr. Palmer.  He is successful, friendly, good natured, down to earth and most famously makes those around him feel special.  Thus, I decided to not only deliver the bad news to the crowd but realized it couldn't get any better than comparing a friend to my idol – at his wedding.
Like many, I've observed of late that Mr. Palmer wasn't getting around so well and it seemed as if the news was inevitable. Still, it was a shocker. As Rocco Mediate said that night on Golf Channel, "It just seemed like he'd be there forever".  Jack wrote the following article for The Daily Collegian: Click here to read Jack's article for The Daily Collegian.
As a kid growing up in the 60's in Central Pennsylvania, "AP" then, now "Mr. Palmer" was my hero. I rooted for him unashamed and often against Jack Nicklaus (Sorry Jack).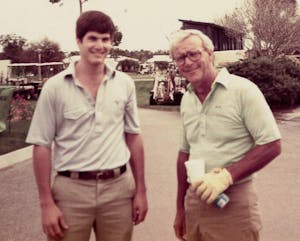 Two younger, thinner golfers in 1980 at Bay Hill. Check out how big his hands are.
His picture was in my high school locker and I used 1968 Arnold Palmer "Tru-Matic" irons that were my parents Bar-Mitzvah gift, so designated by me as opposed to the more traditional gifts. As a youngster enamored not only with golf but also airplanes, Arnold Palmer was like a custom-made hero for me and I later took up the hobby of tinkering with golf clubs, which as a high schooler I did for others for spending money, and still do today in my basement workshop. I learned to fly in college and still fly today more than 40 years later. I still have (at least most of)  the Tru-Matic irons and the AP-30 putter. Now in the golf industry for more than 35 years, one of my prized possessions is my company hat signed by Messrs. Palmer and Nicklaus (I don't root against you anymore Jack). Observing that Mr. Palmer's health was in decline, we even named our dog ("Arnie") after Mr. Palmer to continue his great legacy. I'm a real fan!
The lessons many of us have learned from Mr. Palmer will live on forever. Things like good manners, looking people in the eye, removing your hat inside and most importantly giving back are things that Arnold Palmer helped make cool. Bringing our often elitist game from Wall Street to Main Street is often credited to Mr. Palmer and while there's much work to do in that regard, the fact that three quarters of all golf courses in the United States are open to the public (compared to about half in 1960) and that even with contraction there are roughly 2 1/2 times as many golf courses in the US now than then speaks volumes about Palmer's impact on the game.  That players in golf, and now other sports routinely shake hands and thank each other for the game speaks even more about the kind of impact he had beyond golf.
With all due respect to Tiger Woods, Arnold Palmer made golf "cool". Tiger Woods just expanded and diversified that. We all wanted to be like Arnold Palmer – even when he lost.  With all his winning, Arnold Palmer also taught us how to lose graciously.  He epitomized the gentlemanly qualities of our game at the same time he made it accessible to the average guy – because he was "an average guy".  As one fellow member of the golf industry suggested the game should pause for an hour on October 4th during the memorial service. That would be a fitting tribute and one which I would wholeheartedly support. Later this afternoon, I plan to meet my older son Max and play 9 holes. I promise not to "lay up" even once in honor of Mr. Palmer today.  I might even have to break out some of those old Palmer clubs.  As the great Bob Hope used to say – "Thanks for the memories".